214
Punching press line for drawer blanks
Punching press line for drawer blanks
This Punching press line is combined with an coil cradle, decoiler, straightening machine, roll feeder, hydraulic clamping system for dies, die changing operations, press type HPV250 and with a stacker.
The line is producing blanks for drawer for the furniture industry.
*Note: Roll feeder and straightening device was first developed by WANZKE worldwide.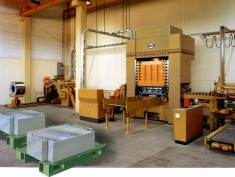 Specifications
speed
production speed
10 to 50 stokes/min
Mail inquiry