428
Strip grit cutter with pneumatic drive
punched strip cutting shear with pneumatic drive
This new generation of A-PS shears are supplied with rocking head. Generell erlaubt die Schere die freie Wahl des Stellungswinkels der schneidenden Messer.
Compact dimensions to be used in defined spaces.
A-PS shears
Scrap cutter (shear) with pneumatic drive.
The shears are available as part of production lines for cut to length operation. Prefered to be used to cutting scrap strips.
The pneumatic shears can be modified for the use as cut to length shear for profiles, wires and bars.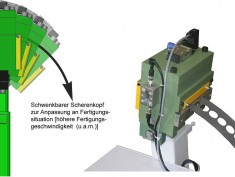 Specifications
Mail inquiry