C-frame press for blanking

Series A-PC
Hydraulic C-frame Press with movable table for mounting and dismounting or assembling of parts. This C-frame press allows precise punching of parts.
Used for assembling and disassembling of rotors and stators for electrical motors in hydraulic industry..
Straightening of parts can be done as well.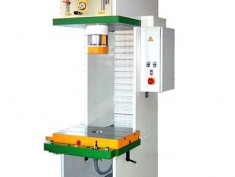 Specifications
Dimensions of bolster plate
Mail inquiry