384
Series A-GMW - Coiler for coiling and uncoiling
Coiler for coiling and decoiling. Part of flat wire production in a steel mill.
Series A-GMW.
Coiler for horizontal coiling and uncoiling
Solid coiler for use in stamping process.
Basic version is equipped with continuous adjustable drive, solid made light metal disc and removable limiting ring to guide the coil. The loop is detected with an tension arm, which will correct loop in start and stop operation mode or correct continuous the speed torque at high coil or decoil operation mode.
Also available with light barriers sensors, supersonic sensors, laser sensors or infrared sensors to control the loop. These coilers are use to coil or uncoil materials like strips of any kind, tubes (hoses), wires and profiles. Optional components are additional coiling and uncoiling to add paper layers.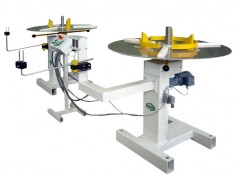 Specifications
Mail inquiry