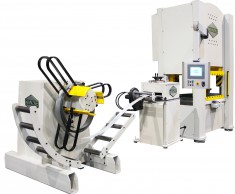 The automatic cutting press consists of decoiler, straightening feeding machine with strip threading device, press SPS 160 with
This press is the latest innovation of WANZKE, it is the very first solution of multiple use without compromise.
The press is a real servo-press and is applicable for all forming works.
Leader in the following production processes: punching, bending, coining, deep-drawing, wall ironing, straightening, calibrating, injecting, precision cutting, cold- and hot-forming, solid forming, extrusion and assembling.
Ideal tooling times, low noise level (< 80 dBA), up to 200 strokes/min.
Maximized flexibility in production through freely programmable motion curves. All piston forces are working coaxial. Horizontally acting forces are held by 8 linear bearings. The hydraulic fluid in our new patented drive is always prepressed and controlled. This guarantees noise reduction and precise press-ram-movement.
For a complete solution for individual customer needs we are offering a comprehensive automation line. This includes reels, roll feeder units, straightening units and Shears.

Specifications
Mail inquiry